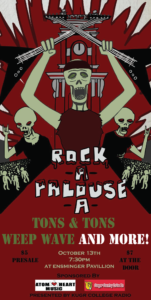 Join us as we present our second annual Rock a' Palouse a'! This year's Rock a' Palouse a' will take place Friday October 13, 7:30 p.m. – 11:00 p.m., in Ensminger Pavilion. There is a style of music everyone can enjoy and it is open to the public.
The event is geared towards featuring underground artists from the Pullman-Moscow area as well as from across Washington. Artists include Landrace, Tons & Tons, and WEEP WAVE.
Tons & Tons are a rock band also based out of Pullman, Washington. They have an eclectic sound mixing the styles of Coldplay and Guns 'n' Roses.
WEEP WAVE are DIY darlings out of Seattle, Washington. Their music can be classified as underground garage rock. Those who like Modest Mouse will love the loud instrumentation decorated with synth and distortion.
Not only will there be Tons & Tons and WEEP WAVE, but there are more bands to come!
Tickets are $5 presale and $7 at the door. Presale tickets can be purchased at the KUGR table in the WSU Compton Union Building or in their office located in Murrow Hall 301 Pullman, Washington.
Special thanks to the Rock a' Palouse a' sponsors, Atom Heart Music and Cougar Country.
For more information, please visit KUGR Radio's Facebook page, https://www.facebook.com/KUGRradio/