We offer a variety of different positions and experiences. We have broadcast positions as well as staff positions available. Staff positions can received  practicum credit through the Edward R. Murrow College of Communication. Students in other departments can sometimes receive internship credit.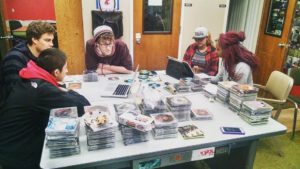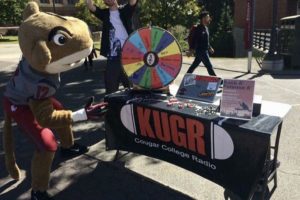 Host your own radio show! Here how:
Fill out this application, here.
Request to be added to the KUGR Talent Facebook Page!
Join us at our DJ Interest Meeting on August 27 at 6 p.m. in Goertzen Hall room 21.
Sign up for an interview!

Interview times will be posted on Friday, August 21.
At the interview you will pitch us your show idea. If you don't have a show idea and still want to be a DJ, that's okay! We will help you create a show.

Join us at studio training on Saturday, September 8.

Training will be going on all day, but you will only need to be there for 20 minutes!
Training signups will be posted Friday, August 21.

After that you have a show! Congrats!! 
Join the sports broadcasting team!
KUGR is the ONLY organization on campus were you can call PAC-12 sporting events live from the press box! Join the sports broadcasting by emailing our Sports Director John Hunt: John.a.hunt@wsu.edu
Join the Executive team!
Broadcasting not your thing? Or want to get involved on a deeper level? Then join the Executive Team!
Manage the KUGR fiscal budget. In charge of making sure the budget is balanced. Email your resume to Katherine.barner@wsu.edu
Assistant Sports Director

Email your resume to John.a.hunt@wsu.edu
About our syndication process:
This year we are syndicating shows with KUOI at the University of Idaho! This is an exciting new opportunity to reach a broader scope of people.
You must have hosted a show for one semester prior to syndication. Syndicated shows will have to attend an hour long FCC seminar with staff from Northwest Public Broadcasting on Wednesday, Sept. 19 at 5 p.m. in Murrow 307.