Join the KUGR team!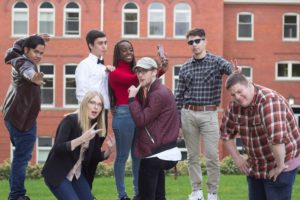 We offer a variety of different positions and experiences. We have broadcast positions as well as staff positions available. Staff positions can received  practicum credit through the Edward R. Murrow College of Communication. Students in other departments can sometimes receive internship credit.
Open Positions: 
On-Air Talent: Apply Here
Application closed till January 8, 2018
Executive Positions: Apply Here
Advertising/Underwriting

Working in the exciting world of advertising. Develop relationships with local businesses who want to advertise on KUGR.
Assistant Executive Positions: Apply Here 
Promotions

Promotions Assistant helps the Promotions Executive create content and schedule posts on Facebook, Instagram, and Twitter.

Fundraising

Fundraising Assistant helps the Fundraising Executive plan events throughout the year. Major events include Rock 'a' Palouse 'a and Mom's Weekend Photo Booth.

Production

Production Assistant helps the Production Executive create promos that air on the station. These promos will promote KUGR events as well as other community events. The Production Department is also in charge of arranging sponsorships with local businesses.

Program

Program Assistant helps the Program Director arrange showtimes. The Program department works with the On-Air Talent to make sure shows and equipment are running smoothly. Programming is in charge of Human Resources.

Sports

Sports Assistant helps the Sports Executive communicate with the sports broadcasters and WSU Athletic Communication to make sure KUGR has live Cougar Sports. The Sports Department chooses who gets to broadcast each game.